Meet the Team
Let us walk with you on your personalized journey toward recovery.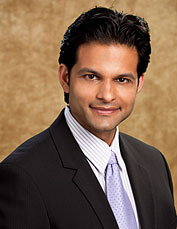 Dr. Neil Ghodadra
Dr. Neil Ghodadra's orthopedic practice focuses on minimally invasive, arthroscopic surgery of the knee, shoulder, elbow, and hip. His unique background includes extensive training and expertise in cartilage restoration of the knee and joint preserving osteotomy, as well as treatment of complex shoulder conditions, ranging from shoulder instability and rotator cuff repair surgery to shoulder replacement surgery. Dr. Ghodadra is fellowship trained in Shoulder and Sports Medicine Surgery and has a particular interest in taking care of athletes.
and good sense are two of life's greatest blessings
Syrus
Munish Lal MD
Dr. Lal offers a variety of interventional pain management services including minimally invasive state-of-the-art techniques, spinal, nerve, joint, soft tissue, and trigger point injections, education about individual pain syndromes, their diagnoses, treatment and prognosis and medication management. Medication management emphasizes use of non-opiate, non-addicting drugs and includes reduction or elimination of drugs which have risk of dependency, misuse and abuse whenever possible.
Call For a Consultation, Limited Spots Available