Ankle Pain Treatment Torrance, CA — Rolling Hills Medical
Many people do not realize just how much the ankles do over the course of the day. The ankle joint is responsible for providing structure, stability, and flexibility to both the foot and lower leg. When someone suffers from ankle pain, this can lead to serious problems. Those who suffer from ankle pain can have a hard time taking the stairs, jogging, and even walking. Ankle pain can also make it hard to ride a bike, work the pedals in the car, and even sleep soundly at night. Fortunately, there are several ankle pain treatment options that can provide people with some relief.
Causes of Ankle Pain
If someone is suffering from ankle pain, there are several possible causes. Some of the most common causes of ankle pain include:
Ankle Sprain: This is perhaps the most common cause of ankle pain. The ankle is held together by a series of ligaments that provide it with a great degree of strength and flexibility. If someone rolls the ankle too far to either side (either the inside or outside), this can stretch the ligaments to the point where some of the fibers start to detach. This can lead to an ankle sprain. If the ankle continues to stretch, this could lead to a complete tear.
Achilles Tendon Strain or Irritation: The Achilles tendon is at the back of the ankle along the heel. The Achilles tendon works with the calf to press the front of the foot downward (such as when working the pedals of a car). Sometimes, the Achilles tendon can become irritated, leading to pain. In serious situations, the tendon might even strain or tear. This can lead to extreme pain, weakness, and swelling at the back of the ankle.
Bone Fractures: The ankle is made up of two bones, the tibia and fibula, which join with the top of the foot. In some cases, people might have a fracture of one or both of these bones. This can lead to pain, swelling, and limited mobility of the ankle. Some of the most common causes of ankle fractures include sports injuries, car accidents, and falls.
Bursitis: Bursitis is the name given to generalized pain and swelling of the joint itself. Sometimes, the ankle gets overused and becomes inflamed. This can lead to pain and swelling of the sac that encases the joint. Bursitis can lead to warmth, swelling, pain, irritation, and a markedly restricted range of motion.
Regardless of the reason why someone has ankle pain, there are several treatment options available.
Treatment of Ankle Pain at Rolling Hills Medical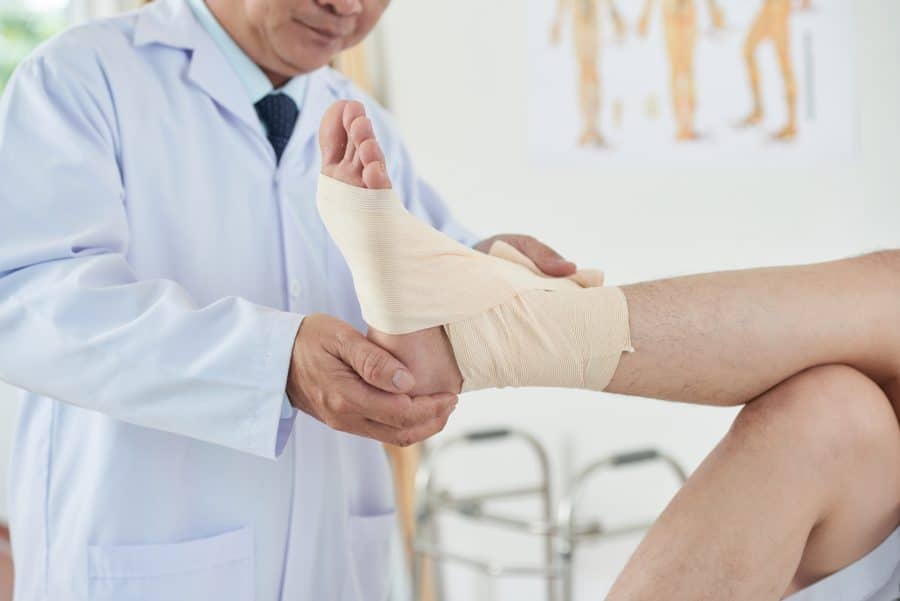 At Rolling Hills Medical, we have a number of treatment options for ankle pain. While we can perform surgery, please know that we only recommend this as a last resort. Some of the treatment options we offer include:
Anti-inflammatory medications such as acetaminophen and ibuprofen
Steroid injections, which concentrate anti-inflammatory treatment directly at the site of the injury
Arthroscopy, which can be used to remove scar tissue and restore flexibility
Minimally Invasive Surgical Procedures, which minimize the size of the incisions to facilitate recovery
Open Surgery when necessary
We evaluate every case on an individual basis and work with our patients to come up with a plan for ankle pain treatment in Torrance that is right for them.
Rely on a Trained Torrance Ankle Pain Doctor
If you are looking for ankle treatment near me, look no further than Rolling Hills Medical. Our doctors are trained to provide ankle pain treatment in Torrance to everyone who comes to see us. At Rolling Hills Medical, our doctors serve patients everywhere from Los Angeles to Orange County. If you are suffering from ankle pain, call our office today at (424) 267-2487 to schedule an appointment.
Call For a Consultation, Limited Spots Available